David J. Elpern, M.D.
David Elpern majored in comparative literature at Columbia college and earned his medical degree at New York University School of Medicine in 1970. He was a general practitioner for four years before completing his dermatology residency at Johns Hopkins where he served as Chief Resident.
For the past twenty years, David has had a special interest in medical education. He has organized an annual national continuing medical education course in dermatology, as well as symposia on the medical humanities for the past ten years.
He brings over twenty-five years of clinical experience in the diagnosis and treatment of skin disorders to this area.
Mrs. Corinne Viens

Office manager, Corinne Viens, has lived in North Adams her entire life. She knows this area and its people and serves as an enthusiastic patient advocate and facilitator.
Mrs. Viens earned a Medical Assisting Certificate degree in 1973. she is committed to seeing that your concerns are handled in a timely and compassionate fashion. Our patients know that Corinne is a real patient advocate. She sees to it that your concerns are taken seriously and that your questions get answered.
Ms. Hope Mendez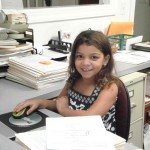 The youngest member of our staff sets a high standard in friendly care and attention.